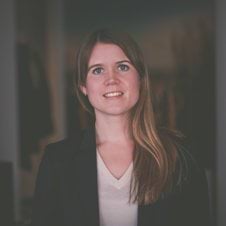 Linda Strandberg
CFO – Visit Group
I'm the former auditor who realized how fun it is to work with accounting and be able to follow a company, up close, and really be able to make a difference.
My first contact with Visit was during Christmas Holiday's 2014. I remember struggling to eat noodles with sticks during that first interview.

I still don't manage to eat with sticks, but I have learned a lot of other stuff over the last few years.

I think my job is real fun. Especially working with the monthly and annual reports. Every day is different from the day before and sometimes your day turns out differently than expected making every day at work interesting.

I am also so grateful to be a part of a real great Finance team with the greatest helpful and positive attitude. 
High quality & structure is top priority at work. Not quite as much at home. Maybe you didn't think my husband has to pay the bills at home, but that's the truth... I am actually done with invoices when I go home 😊